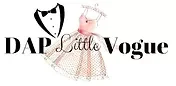 Wow! The dress is beautiful and of excellent quality. My daughter loves it. I will buy again from them. I highly recommend it!
Wow wow daplittlevogue.com is the latest store in Houston for your kids clothing . Beautiful and affordable dresses and very classy too .Come and visit for yourself and you won't regret it.
Beautiful and quality dresses 👗 👌. Stop by and you will love ❤️ it
Excellent quality and exactly as on the picture. Love love love my orders.
You wont regret purchasing from here. My daughter is a padgeant kid and this is now the only place we have are dresses custom made.😁 you guys are amazing!
I love Dap Little Vogue, they have Very pretty clothing for kids. GREAT quality clothing that lasts long and hold up well after many washes. My niece loves the princess like side of the dresses. We (me and my niece) are big fans of DLV.
I and my kids love the clothes from this website!! I am so glad I found them.....everything has been spot on, fits wonderfully, styles are trendy and lots to choose from!! Thanks for being here for us!!!
I got the Fadila dress for my God daughter for her 1st birthday it was lovely and affordable. Fabric texture was super. I will recommend daplittlevogue to all my family and friends. You will never regret spending your money.
Sign Up for Exclusive Offers and Updates
Join the Texas Kids Couture family today to stay in the loop on the latest children's fashion trends and enjoy exclusive benefits. Sign up now to unlock these exciting perks:
1. Insider Discounts: Get access to member-only discounts and special offers on our trendy kids' clothing collection.
2. Early Access: Be the first to shop new arrivals and seasonal collections before they're available to the public.
3. Style Inspiration: Receive fashion tips, outfit ideas, and style inspiration for your little ones right in your inbox.
4. Personalized Recommendations: Discover handpicked clothing recommendations tailored to your child's age and preferences.
5. Event Reminders: Never miss a special occasion outfit with event reminders and curated selections for birthdays, holidays, and more.
6. Exclusive Giveaways: Participate in exclusive giveaways and contests for a chance to win exciting prizes.
7. Insider News: Stay updated with our latest store news, including store events, promotions, and community involvement.
Join us today to experience the best in children's fashion, brought to you by Texas Kids Couture. Enter your email below to get started: