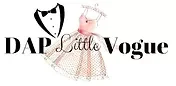 Rental Order Terms
Please do not rent or book 1 particular dress for multiple sessions .  please do NOT book (1) dress for more than 5  children to wear.
 It is important because a rental is meant for 1-3 children.
Please always rent more than 1 dress if you have more  clients  . When renting only 1 dress for a multi book mini session you run the higher risk of incurring damage fees and possible restocking fees.
Please email us should you have questions on this. We do offer discounts when booking rental for a multi mini session/ workshop.
We want to help do our best to ensure you have a positive rental experience with us.
PLEASE DO NOT   share your rental with a friend! You are LIABLE for ANY rental and ALL terms in  this agreement. 
These terms are subject to change at anytime. IF YOU DO NOT UNDERSTAND THE PROCESS OF RENTAL PLEASE EMAIL US .
AGREEMENT By purchasing a Daplittlevogue RENTAL item(s) you will adhere to all details of this contract and you agree to all terms of this agreement. You understand this is a binding contract. As purchaser you are fully responsible for ALL rental item(s). Should you loan this item(s) to someone else – you understand that you are responsible for any and all damages occurred. Important order notes:
You will receive the specified size, color and design and you will receive on or before the delivery date for which you placed your order.

Except in the rare event that the item(s) is damaged beyond repair

or is otherwise unavailable.

Should your item(s) become unavailable we will use reasonable efforts to notify you immediately that the item(s) is unavailable. If Daplittlevogue is able to reach you, we will allow you to choose any available/in stock rental item(s) to replace the unavailable item(s). If Daplittlevogue is unable to reach you, or you respond with lack of time to fix the issue – you acknowledge and agree that Daplittlevogue may send you a refund, or a replacement product of the same or greater value. In most cases, you will be issued an immediate refund.

We inspect each item with the utmost care and attention to detailing, however use of our item(s) is at your own risk. You agree that, Daplittlevoge  shall not be held liable, for any health related complaints, such as allergic reaction to cleaning methods/soaps, etc associated with any item(s).

To avoid your item(s) not fitting – we ask that you please review the PRODUCT DESCRIPTION tab which is located towards the bottom of the product page. There you will find full specs for each item. This allows you to properly measure your model/daughter/client prior to your purchase. Should your measurements be 1-3 inches larger than the specs listed – in most cases then the item(s) will be too small. There are ways for photo shoots to hide any size discrepancies. Daplittlevogue will NOT issue any type of refund towards an item(s) that does not fit properly. This is your responsibility to ensure you have measured prior to placing your order.

Should you decide you need to Cancel your reservation of dates for any item(s) due to client cancellation, change of mind, shoot/vendor cancellation (venue, makeup artist etc)or other unforeseen circumstances Daplittlevogue will NOT issue any refund or credit. If you need a change of date due to mother nature, or certain unforeseen situations B+L will issue a credit for the full Rental Fee of the item(s) for a future rental by you of our item(s), so long as the item(s), as determined at Daplittlevogue sole discretion. You must email us within 7 – 15 days OR sooner to your booking date in order for us to make any possible changes in your order. ANY ORDER that is already within the shipping time frame WILL NOT be cancelled and or issued a possible date move. In addition, In the OFF chance we decide to issue a CREDIT or REFUND of any kind- we will issue a refund/credit MINUS a restocking fee of $50.00

Daplittlevogue item(s) in some cases will be brand new, like new, excellent used condition, or good used condition. There may be some minor flaws which we do our best to include in the product description.

Any order that has a RETURN DATE that falls on SUNDAY OR A HOLIDAY MUST BE RETURNED TO US BY FRIDAY OR BY THE FOLLOWING BUSINESS DAY-BUT YOUR ORDER MUST BE RETURNED TO US ON TIME.
If YOU NEED MEASUREMENTS SO YOU GET THE EXACT FIT FOR YOUR CHILD LET US KNOW WE WILL BE MORE THAN HAPPY TO ASSIST
SHIPPING YOU ARE RESPONSIBLE FROM US TO YOU/FROM YOU TO US
PO Boxes for orders are not allowed.
SHIPPING METHODS
Daplittlevogue  ships FEDEX GROUND ,USPS ,UPS it depends which we FIND CHEAPER AT THAT MOMENT AGAIN YOU WILL BE NOTIFIED.
Each package is carefully packaged when shipped. Daplittlevogue will NOT be held responsible for an item after it ships. Insurance will cover any cost for lost packages or damage for an additional charge, but it is not included in our standard shipping charge & must be purchased at the time of placing your order.
Once the package is shipped, Daplittlevogue is not responsible for giving refunds or replacing packages due to late shipment drop off. Please note: We do our absolute best to ensure that packages are shipped within a timely manner. It is extremely important that you do NOT reserve a start date (first day of rental – as your actual shoot date.) It is always best that your actual shoot date be set for the 2nd or 3rd day after your start date selected.
We can NOT guarantee any ship time/date as Shipping is out of our control once the package has been sent out for shipping. We unfortunately can NOT control lost packages, delayed packages, late arrival times.
Daplittlevogue will NOT refund shipping fees, will NOT refund you any client cost losses, vendor cost lost, and will NOT refund any business expenses. Unfortunately – we can not bare responsibility for shipping companies. IF the package was lost, delayed etc due to Daplittlevogue– we will be sure to reach out and rectify the situation to the best of our abilities. Upon delivery, you the purchaser bear responsibility for the item(s).
You acknowledge that you have provided Daplittlevogue  with a secure shipping address. A secure shipping address is considered to be one where an individual can physically receive item(s). Should you provide us with an un-secure shipping address, Daplittlevogue does not bear liability for products left unattended, or collected by someone other than purchaser.
You acknowledge that providing anything other than a secure shipping address may result in delivery delays and additional delivery fees and Daplittlevogue will not be liable. You will be liable for all such delays, lost item(s) and additional delivery fees. As stated above: You need to allow yourself time to receive your item BEFORE your actual event date. If you need a rush order- we do have options for an additional fee.
Daplittlevogue is NOT responsible for lost or stolen shipments. Once we have shipped an item we can not control how the shipment duration goes. Sadly there are times that the shipping carrier has delays on their end. Unfortunately those situations are out of control. We always do our best to help remedy the situation but we can not guarantee anything. That is why it is so important that you set your start date to NOT be the 1st day of your rental.
The garment will be shipped via FEDEX GROUND , to the Renter.  The Renter affirms that the delivery address is a secure location and takes all responsibility for stolen packages, including filing police reports and Fedex claims/reports to begin the process of recovering all stoles items. 
IF YOU ARE LOCAL or you are visitng and can pickup at our location-YOU CAN SCHEDULE A PICK UP via email.
We ask that all rental orders be returned shipped FEDEX GROUND or UPS 3 day ONLY. NO SIGNATURE.
AT THIS TIME IF YOU SHIP USPS PRIORITY AND YOUR ORDER IS LATE YOU WILL BE RESPONSIBLE FOR LATE FEES.
FEDEX is the most reliable method for return shipping. It is only a few dollars more than USPS PRIORITY but is more guaranteed and easily trackable.
What do I do if my package is late/did not arrive on my start date?
1. Immediately call FEDEX (not us). Provide your tracking number. Ask the assistant for information on where your package is. Open a claim. 
2. THEN email us and include your order number,  a phone number. 
Stay calm. Let us work the problem with you. 
It is imperative ON your start date you immediately call FEDEX if package is late. It is then imperative you email us asap. We can not help you if you wait 2 – 3 days to inform us that your packing is late. 
SHIPPING BACK TO US
We ask that you ship ALL item(s) back in the box we shipped in. If the box has experienced damages (crushed, liquid, holes etc) please purchase a new–UNUSED-box of equal size/quality. You can quickly purchase a box from FEDEX, UPS, WAL MART, TARGET. 
Your rental item/s MUST be set to arrive by the last day of your rental duration (day 8 DUE BACK TO US, no later) day 8 IS THE DAY YOUR RENTAL SHOULD BE BACK IN OYR POSSESSION.  PERIOD. 
YOU ARE RESPONSIBLE FOR SHIPPING FEE BACK TO US. You are responsible for selecting a shipping carrier that will return the items ON TIME and in good condition.
You are responsible for any LOST or STOLEN item(s). You are responsible for any damages occurred during shipment. Your item(s) should be shipped back to us in the manner you received your items(s).
What we charge a repair/damage fee for: (You agree and understand all the below)
Any damage to beading along neckline, arms or waist that are needing multiple repair work- you will be subject to a repair fee. (This includes multiple areas of the gown that need extensive bead repair work.) You will be responsible for replacement beads and the time it will take to remove item(s) from the website.

Stuck zippers or damaged zippers: This would be caused by not fitting the garment properly. A stuck or ripped zipper is when the zipper itself is bent or damaged beyond repair- Or zipper comes fully off the track- OR can be caused by aggressive pulling/improperly pulling.

Any item(s) that come back with major rips to the tulle or fabric. It is important that you do not use our gowns around sharp objects (trees, sticks, limbs, cars, anything that could rip or heavily damage the fabric).

Excessive stains (Grass, mud, water, oil, makeup.)

Any item(s) returned with excessive grass inside the dress, sticks from lack of removal, twigs, leaves, metal objects (It is vital that you remove ANY AND ALL objects collected underneath a gown before return shipping) In the case of grass it is best to use a lent roller.

Any damage caused by animals (dander, animal hair, rips caused by animals to the fabric) – we suggest that animals are NOT used with our gowns as our gowns are made with expensive fabrics that can be torn. Also we do not suggest animal usage as the next rentee may be allergic to that specific type of animal. Animals leave behind dander even after being cleaned.

Any item(s) returned with heavy cigarette/smoke odor, smell, damage from will be charged an extensive cleaning fee and or replacement fee.

Burn marks or burn stains due to ironing or steamer (we ask that you do NOT do this to our garments but should you use these type of items you will be charged the repair fee or replacement.)
You as purchaser agree that B+L shall charge and you shall pay via paypal, for the price for additional cleaning fees, repairs or replacement of item(s), as determined to B+L discretion, up to 200% of the retail value or market value for the product. This includes damages incurred during shipment of item(s) being returned to B+L. If you do not pay the damage/repair/replacement fees you will be banned from future purchases with Daplittlevogue.
CARE INSTRUCTIONS:
Because we use fabrics that are delicate in nature and are very pricey- we ask that you please follow the guidelines below. We truly want you to enjoy our garments / item/s but please do so with love and care.
REFRAIN from any drinks/food/body makeup, body makeup/spray tanning when using our item(s). PLEASE refrain from spray tanning day before or DAY OF event. Spray tanning solutions stain the satin of the bodice and can NOT be removed/cleaned. Body makeup is also prohibited when renting our item/s. Body make up also is very hard to clean/remove from the bodice. PLEASE DO NOT WEAR ITEM/S WHILE HAVING HAIR AND MAKEUP DONE. BEST SUGGESTION IS TO WEAR A BUTTON UP, A HOODIE, OR A MAKEUP CAPE during these times to help you from messing up hair/makeup.
REFRAIN from USE of our garments in or near water or mud or sharp objects (trees, rocks, concrete seats, snow etc)! PLEASE pick the garments up when walking on the sidewalk, walking around grease. Should you want to shoot our item/s on or near water/beaches, snow etc it is best to prop the child on a box, or use towels underneath or a clear shower curtain in order to keep the garment from laying directly on the wet or muddy surface.
REFRAIN from excessive play (running, jumping) in order to prevent unpreventable rips and tears. Please watch small children – as some of our item/s have small delicate pieces that could be a choking hazard.
REFRAIN from IRONING OR STEAM machine use on our item(s). Should you need to remove wrinkles we recommend a professional steaming system OR hanging item(s) in a bathroom with hot shower running. By hanging the item(s) in a hot room-this will help allow the wrinkles to fall. We also suggest fluffing the item out, and letting hang 1 day prior to use.
REFRAIN from using our gowns with animals unless we give you permission.
REFRAIN from DRY CLEANING OR CLEANING.
Please pick up the skirting if renting a dress. This helps to keep the underneath of the skirting from picking up any dirt/grease/grass stains etc. It is important to lift the skirt of the dress from the sides-or pick up from the floor and lift up to carry.

Please be sure our gowns have all grass, sticks, etc removed from the dresses before return shipping. Tulle tends to accumulate these items when outside. So please use a lent roller to remove ALL grass from underneath the gowns. Please be sure you inspect underneath for sticks and other outside debris that can be caught underneath the garment.

Please be cautious of where and how you sit. We ask that you lift the garment off of the floor and try to tuck under your buttocks in most cases in order to keep the skirting safe from tearing on nails/hooks etc.

You must utilize a towel/sheet/shower curtain to cover any chairs, benches before sitting in the gown 
We want you to enjoy our rentals. But, it is very important that you understand our agreement. We want our gowns to be enjoyed by everyone and in order to do so these rules and terms are in place so that each rentee can have a pleasant experience.
Return of item(s) and Extensions:
You agree to return the item(s) to Daplittlevogue  on or before the return date for the item(s) which is identified on the invoice for your order. In some cases an extension is possible. For an extension please email takidaayuk@daplittlevogue.com provided that any extension provided is subject to other orders for that item(s) and is available only upon pre-payment of the additional Rental Fee applicable to that product for the period of time of the extension.
Late Fees.
If you return the item(s) late or fail to return item(s) at all, a late fee of seventy dollars ($70.00) will be charged to the payment card you used to pay the Rental Fee or to any other payment system included in your account information; this includes PAYPAL. For every day that you are late returning the item(s) you will be sent a bill and you agree to pay such late fees, up to an amount not to exceed 200% of the retail value or market value, as determined at B+L's discretion, plus applicable sales tax (plus the Rental Fee). The late fee is payable for each order of item(s) that is not returned when due, NOT towards each item(s) that is the subject of the order that is late.
Most importantly, if you have not returned the item(s) within fourteen (14) days after the return date for the item(s), this late return will be considered a non-return. daplittlevogue will then invoice/charge the maximum late fee set forth, less any late fees that you have already paid, plus applicable sales tax.
Payment of 200% Retail Value or Market Value.
Should you be charged an amount equal to 200% of the retail value or market value and you still possess the item(s), the item(s) are then considered yours to keep, though without any future refund, or return of any kind.
You as purchaser agree that daplittlevogue will charge and you shall pay, for the price for additional cleaning fees, repairs or replacement of item(s), as determined to daplittlevogue  discretion, up to 200% of the retail value or market value for the product.  This includes damages incurred during shipment of item(s) being returned to Daplittlevogue.
DAMAGES
Use of  Dapllitlevogue  RENTAL ITEM(S)
In the OFF chance that there may be damages to any rental item(s) upon opening shipment- please report those immediately. We do our best to check all item(s) prior to shipping but there are on rare occurrences we may miss prior damages. Should damages be sustained through cutting open the shipment box- you bare responsibility for that. It is important to use caution if using scissors or box cutter. It is crucial that you do NOT run scissors or a box cutter directly over the middle/center of the box. Items tend to shift during shipping and therefore the dress or other items can be pushed up against the middle of the box.
Upon purchase you agree and are responsible for the care of Daplittlevogue item(s) and you agree to treat each item(s) rented with great care. Daplittlevogueproducts are meant to be used and worn in limited capacity. This includes: photo shoots, special events, etc. You as the purchaser bare responsibility for loss of item(s), destruction or damage to the item(s) due to "disappearance", theft, fire, major stains or any other cause.
Daplittlevogue considers normal wear and tear to encompass: MINOR stains (this includes smudges, small water marks) small snags in the fabric (this includes a pull of the threading)
Wholesale and resale 
We do not wholesale any of our gowns. Anyone caught buying and selling for profit without proper authorization will be in violation of our terms and agreement through purchasing new or used items. You will be banned from future purchases through our company. 
At Daplittlevogue we believe all reselling of our gowns be at buyers costs with no additional fees added in. All items should be properly noted what damages are noticeable or otherwise and exact costs paid. Anyone who profits will be subject to further fees owed to designer. 
We do not allow other companies at this time to rent our gowns without legal consent. 
CLIENT PRIVACY
This privacy policy sets out how Dap little vogue uses and protects any and all information that you give Daplittlevogue  when you use this website. Daplittlevogue is committed to ensuring that your privacy is protected. Should we ask you to provide certain information by which you can be identified when using this website, you can be assured that it will only be used in accordance with this privacy statement. Daplittlevogue may change this policy from time to time by updating this page.
WHAT WE COLLECT
We may collect the following information:
1. name
2. contact information including email address
3. demographic information such as postcode, preferences and interests
4. other information relevant to customer surveys and/or offers
What We Do With Information We Gather
We require this information to understand your needs and provide you with a better service, and in particular for the following reasons:
Internal record keeping:
1. We may use the information to improve our products and services.
2. We may periodically send promotional emails about new products, special offers or other information which we think you may find interesting using the email address which you have provided.
3. From time to time, we may also use your information to contact you for market research purposes. We may contact you by email, phone, fax or mail.
4. We may use the information to customize the website according to your interests.
5. SECURITY
We are committed to ensuring that your information is secure. In order to prevent unauthorized access or disclosure, we have put in place suitable physical, electronic and managerial procedures to safeguard and secure the information we collect online.
How We Use Cookies:
A cookie is a small file which asks permission to be placed on your computer's hard drive. Once you agree, the file is added and the cookie helps analyze web traffic or lets you know when you visit a particular site. Cookies allow web applications to respond to you as an individual. The web application can tailor its operations to your needs, likes and dislikes by gathering and remembering information about your preferences.
We use traffic log cookies to identify which pages are being used. This helps us analyze data about web page traffic and improve our website in order to tailor it to customer needs. We only use this information for statistical analysis purposes and then the data is removed from the system.
Overall, cookies help us provide you with a better website, by enabling us to monitor which pages you find useful and which you do not. A cookie in no way gives us access to your computer or any information about you, other than the data you choose to share with us. You can choose to accept or decline cookies. Most web browsers automatically accept cookies, but you can usually modify your browser setting to decline cookies if you prefer. This may prevent you from taking full advantage of the website.
Links To Other Websites
Our website may contain links to other websites of interest. However, once you have used these links to leave our site, you should note that we do not have any control over the 2nd/3rd party websites. Therefore, we cannot be responsible for the protection and privacy of any information which you provide whilst visiting such sites and such sites are not governed by this privacy statement. You should exercise caution and look at the privacy statement applicable to the website in question.
Controlling Your Personal Information
We will not sell, distribute or lease your personal information to third parties unless we have your permission or are required by law to do so. We may use your personal information to send you promotional information about third parties which we think you may find interesting if you tell us that you wish this to happen. If you believe that any information we are holding on you is incorrect or incomplete, please write to or email us as soon as possible, at the above address. We will promptly correct any information found to be incorrect.
WE LOOK FORWARD FOR YOUR FIRST RENTAL……..
​
Thanks so much!
Ida Agbim
Sign Up for Exclusive Offers and Updates
Join the Texas Kids Couture family today to stay in the loop on the latest children's fashion trends and enjoy exclusive benefits. Sign up now to unlock these exciting perks:
1. Insider Discounts: Get access to member-only discounts and special offers on our trendy kids' clothing collection.
2. Early Access: Be the first to shop new arrivals and seasonal collections before they're available to the public.
3. Style Inspiration: Receive fashion tips, outfit ideas, and style inspiration for your little ones right in your inbox.
4. Personalized Recommendations: Discover handpicked clothing recommendations tailored to your child's age and preferences.
5. Event Reminders: Never miss a special occasion outfit with event reminders and curated selections for birthdays, holidays, and more.
6. Exclusive Giveaways: Participate in exclusive giveaways and contests for a chance to win exciting prizes.
7. Insider News: Stay updated with our latest store news, including store events, promotions, and community involvement.
Join us today to experience the best in children's fashion, brought to you by Texas Kids Couture. Enter your email below to get started: